Mountain Homestays Contributes to Global Sustainability Goals
The world marked the fifth anniversary of the adoption of the landmark Paris Agreement on climate change in December 2020. It meant we are getting closer to the commitment we made to reduce the global carbon emissions in an effort to limit the global temperature increase to 2 degrees Celsius in this century. What does it mean for the travel industry? Well, as travel professionals , it means the world to us because our industry is responsible for 8% of the total global carbon emission.
Before the pandemic hit the world, 1.4 billion tourists travelled globally in a year. Any type of travellers – business, leisure, adventure, or even the responsible ones – required the same facilities. Good accommodation, taxi, and food are the most common essential services, any type of traveller would require. These are also the services mainly responsible for carbon emission in a traveller's journey.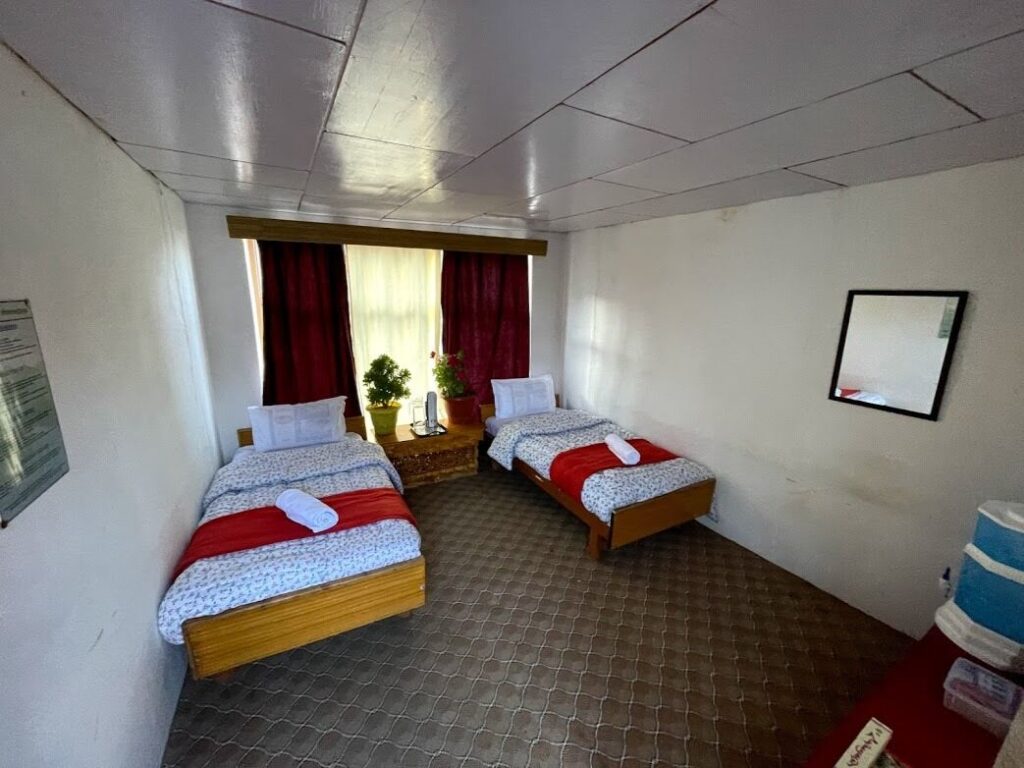 With the traditional approach, a traveller chooses accommodation services that are responsible for 30-50 kg of Co2 per day per traveller. We at Mountain Homestays, have got this down to 9 kg of Co2 per day/per traveller with our infrastructure and hospitality practices. Untapped practices in a homestay such as using LPG for cooking and using Traditional Heating – Bukhari in winters still generate 1100 kg of Co2 in a year. Yet, the homestays remain carbon-neutral because it offsets 2753 kg of Co2 annually, more than what it generates. This is achieved by installing reliable infrastructure and inducing some easy practices in the homestays. So as an industry, instead of being responsible for carbon emission, we easily can be a contributor to becoming a carbon-neutral industry. We at Mountain Homestays have taken a solid step towards it. We have started with the accommodation facility that each traveller requires and mitigated carbon emission caused when a traveller uses this service. We have built Carbon Neutral Homestays!
Traveller's Energy Need – Solar Power
Traditional method– Having an uninterrupted power supply in traveller's accommodation is a basic need. This provision contributes more than any other facility at a homestay. The power sector alone accounts for 33 Gt of CO2 that is the most responsible sector in carbon emission. Travellers consume at least 14 kWh of electricity for one night's stay in a hotel room, which accounts for 12.74 kg of CO2. In remote regions of the world, communities use diesel or gasoline to generate electricity. In a day, at least 5 liters of diesel is burned just for the light when they are hosting a traveller. This means a homestay service using diesel generators is responsible for 14 kg of CO2 per night.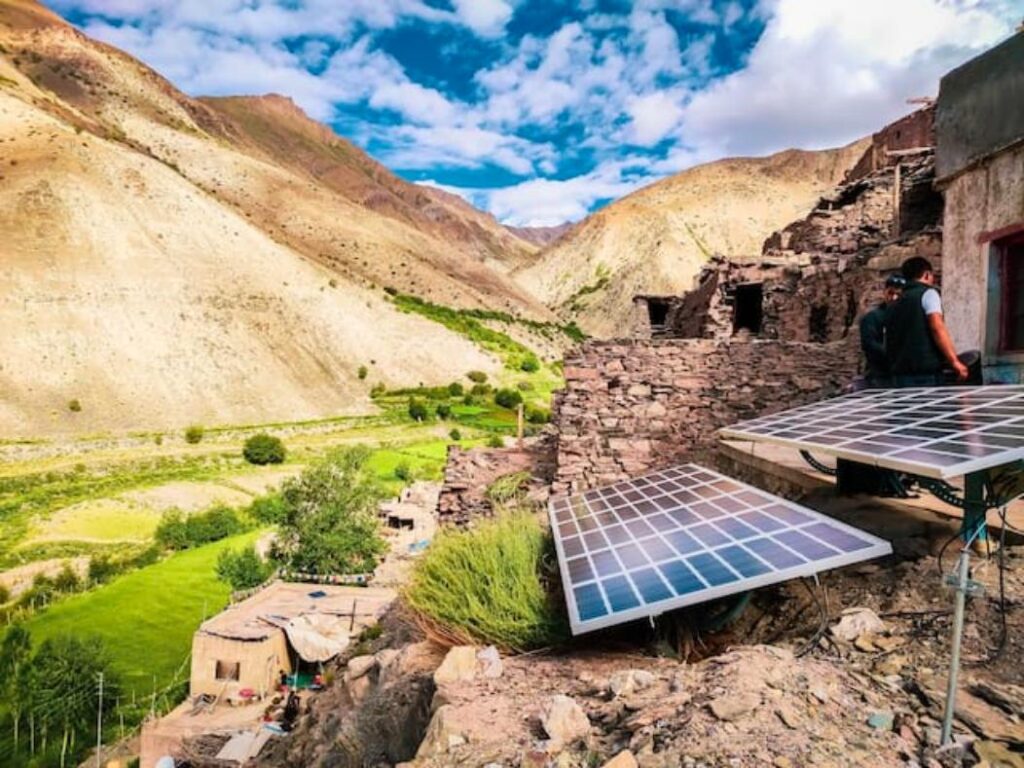 Mountain Homestays Solution – Mountain homestays operates in the remote regions of the mountains where the traditional source to generate power is diesel generators. The source of this 14 kg of Co2 emission was mitigated by installing Solar Micro Grids in the homestays to generate an adequate amount of energy for a host family as well as for their travellers. This also enables more remote places such as the Last Stop to Siachin Homestay to be able to hosts traveller, unlocking new destinations.
Traveller's Hot Water Need – Solar Water Heaters
Traditional Method – The homestays located in remote villages operate out of very basic infrastructure where the luxury of boilers/geysers is not available. In this case, a large amount of wood is gathered from the forests or brought in from other cities, for the family's own needs. When these families start hosting, they make the provision of hot water for their guests by burning wood for it. At least 3 kg of wood gets consumed every day for this purpose that leads to a carbon emission of 5.7 kg.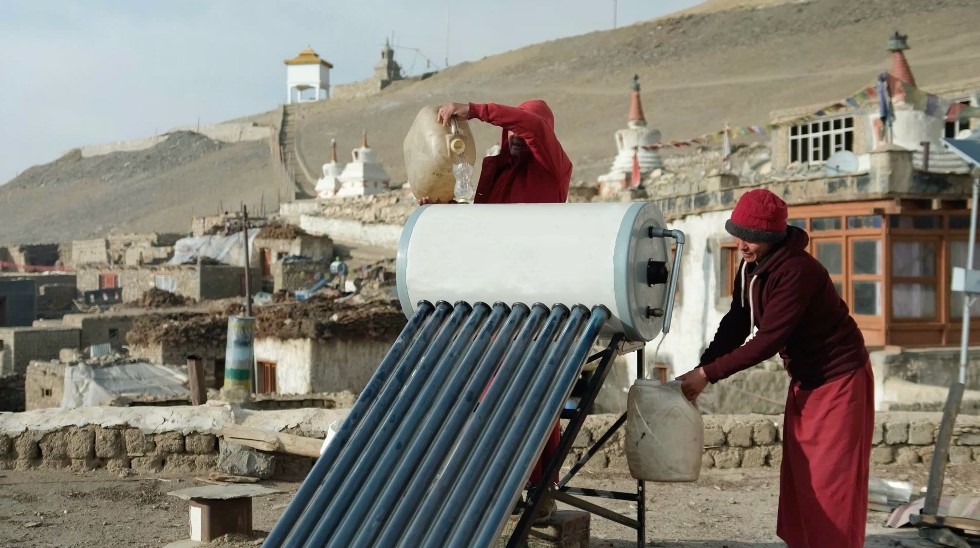 Mountain Homestays Solution – Hot water is not just a traveller's need but also a host family's need for which 5.7 kg of CO2 is emitted in remote villages on daily basis. With the inclusion of Solar Water Heaters in the ecosystem, Mountain Homestays put an end to this emission. Now the homestays are equipped with providing 24*7 service of hot water for their travellers. This was not possible earlier due to the hardship involved in gathering enough dry wood. This also enables the homestays such as the Natural Hyrdopathic Homestay in Chumathang region of Ladakh, to be able to provide better facilities for the traveller around the year.
Traveller's Food Need – Greenhouses
Traditional Method – Availability of good food defines the quality of any accommodation. Any host, may it be a homestay host in a remote village, or one in the city, always wants to be able to meet the expectations of the traveller and provide them with the meals of their choice. What this means for the hosts in the remote regions is, multiple trips to bigger markets for fresh vegetables, sometimes 3-4 trips a month. These trips in the Himalayas can range between 10-20 km on an average, i.e. 40-50 kg of carbon emission per trip. In total, this leads to a major chunk of emission in the overall accommodation scenario.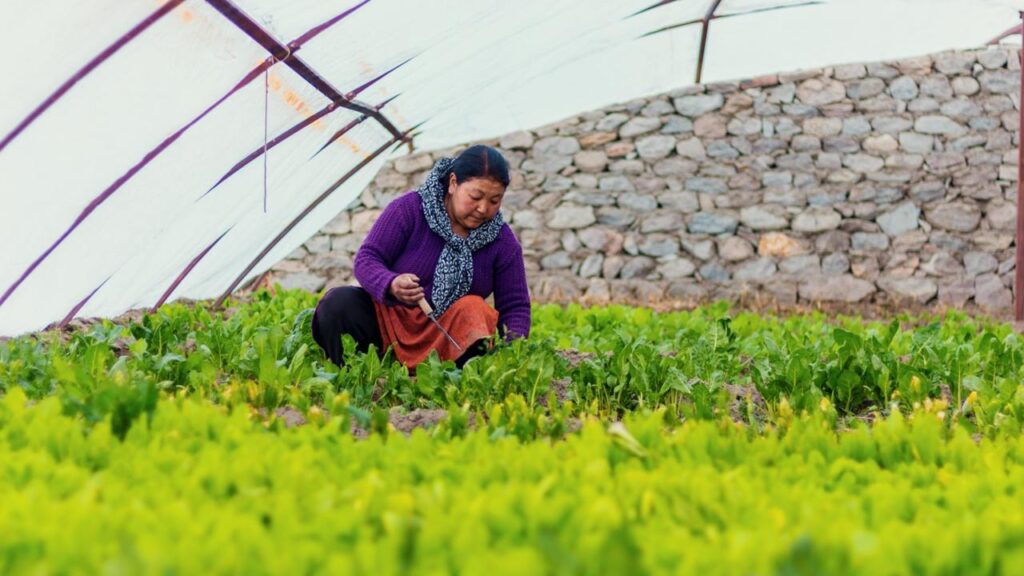 Mountain Homestays Solution – The best solution to reduce the carbon emission for food purpose is to have the provision of sourcing food from within the village. Less dependency on market supplies directly reduces a large amount of carbon emission. Homestays under the carbon neutral homestays of Mountain Homestays such as the Flavours of Ladakh Homestay, have been setup with greenhouses in their vicinity. The villagers are able to grow a variety of products such as Spinach, Melons, Herbs, Peas and Potatoes in surplus amount for their own and traveller's consumption by themselves. The availability of these vegetables throughout the year, reduce the number of trips to the market drastically bringing the carbon emission down by a significant amount.
Traveller's Drinking Water Need – Water Filters
Traditional Method – When it comes to water, everyone gets sensitive, especially while travelling. It is a common perception that only bottled water is the safest drinking water in unfamiliar destinations. Each day, a traveller uses at least two bottles of water that are made of Polyethylene (PET) that can only be recycled or disposed of by burning it. In the places where the recycling units are not available, locals start burning loads of plastic collected over the period of time. Only 4 such bottles used by a traveller in his one-night stay causes 3.31 kgs of Co2 emission when burned to dispose of.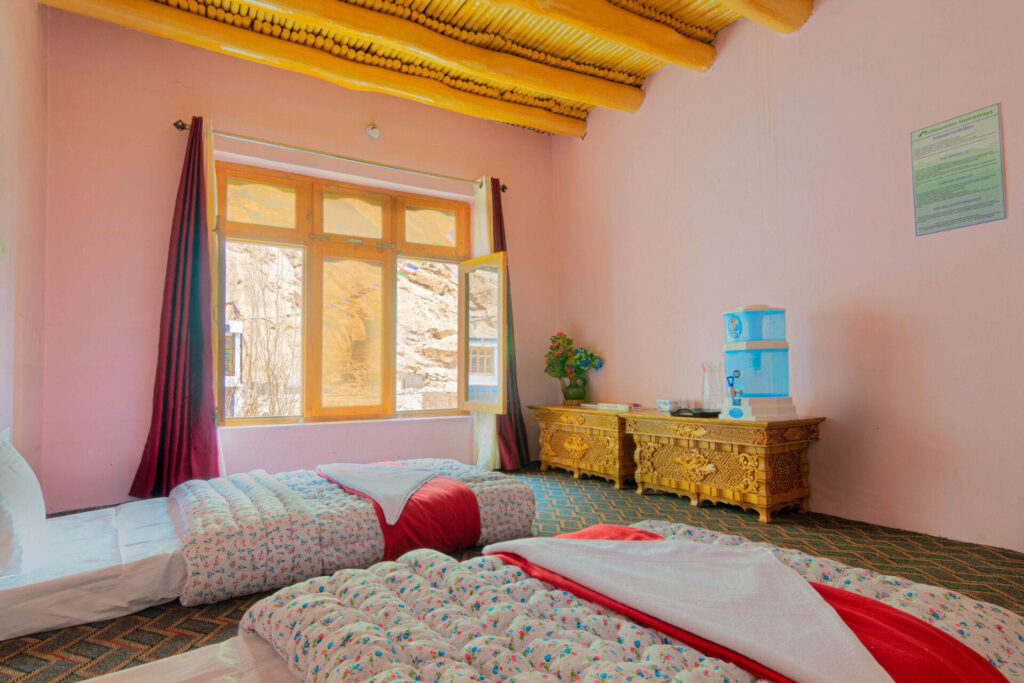 Mountain Homestays Solution – To instill confidence in the traveller and tackle this aspect of carbon emissions in homestays, Mountain Homestays has equipped all its homestays with water filters, giving the traveller to reuse bottles and still have clean potable water for drinking. The hosts of these homestays such as the Red Windowed Workation Homestay are informed to educate their guests about re-filling the water bottles instead of using single-use plastic bottles.
Traveller's Amenities Need – Re-usable Amenities
Traditional Method – Study show, at least 1.4 kg of general waste is generated per day per traveller. This waste is usually a mix of organic and solid waste. The solid waste consists of single-use amenities that when compiled on daily basis creates a pile of waste after a period of time. In remote places, this pile of waste is burned that eventually causes heavy carbon emission.2.9 metric tons of CO2is emitted after burning one ton of plastic.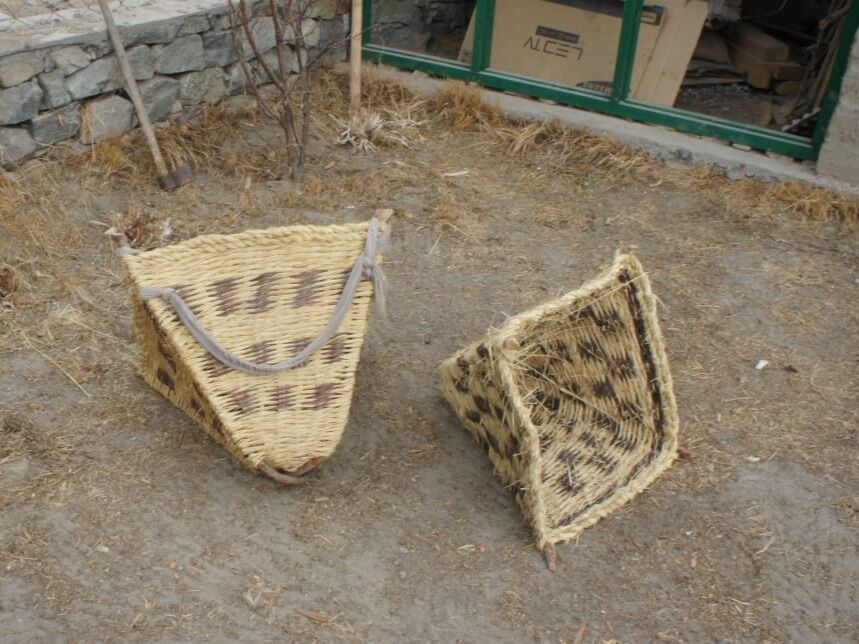 Mountain Homestays Solution – Mountain Homestays strongly believe in the Generating-No-Waste approach, especially for the remote places where the ecosystem lacks the infrastructure to segregate and recycle. Our homestays provide only those amenities that are either decomposable or reusable – Towels, Non-disposable cutlery, Soaps packed in paper and no use of disposable bags for waste. Travellers are encouraged to carry their own toiletries and leave no trash behind. These changes come with a learning curve and are needed to cover the last aspect of carbon neutral homestays.
Mountain Homestays is determined to setup carbon neutral homestays in the remote regions of the Himalayas and in other regions brining innovation to the front.

Get in touch to learn more on how to make your homestay, a carbon neutral homestay.

[newsletter_form type="minimal" lists="undefined" button_color="undefined"]