Once you've reached Leh, there are many options for you as a traveller to explore Ladakh. One such place, at a distance of 211km from Leh, in the peaceful region of Rupshu, is a small village called Korzok. Set on the banks of Tso Moriri, the largest high-altitude lake entirely within India, Korzok is perched at a height of 4,510 m. Here, as far as the eyes can see, there are majestic, towering mountains. For anyone travelling from a metropolitan city, Korzok is nothing short of heaven, with no noise or air pollution, and a lake that mirrors the starlight and sunshine of the vast Himalayan skies.
Tso Moriri or 'Mountain Lake' is the remnant of a larger waterbody that was formed due to continental drift millions of years ago. Today, a popular pitstop in the summer, it attracts a large number of migratory birds, such as black-necked cranes, brown-headed gulls, common mergansers and black-winged stilts. These birds travel to the region to nest and raise a family. This is also the season when flocks of birdwatchers and bird-lovers arrive on its shores, specifically to admire and observe these birds. The local natives, of course, are quite familiar with these sights. The lake is beautiful and is a perfect place for night photography. I was able to shoot this image (above) just with just my phone.
The people in the village of Korzok are largely nomadic. Most of them live in temporary tents and often move from valley to valley. Some of the most peaceful and kind-hearted people you'll ever come across, the locals in this valley are very welcoming. You'll be greeted with buttermilk, yogurt, cheese, milk, and smiling happy faces!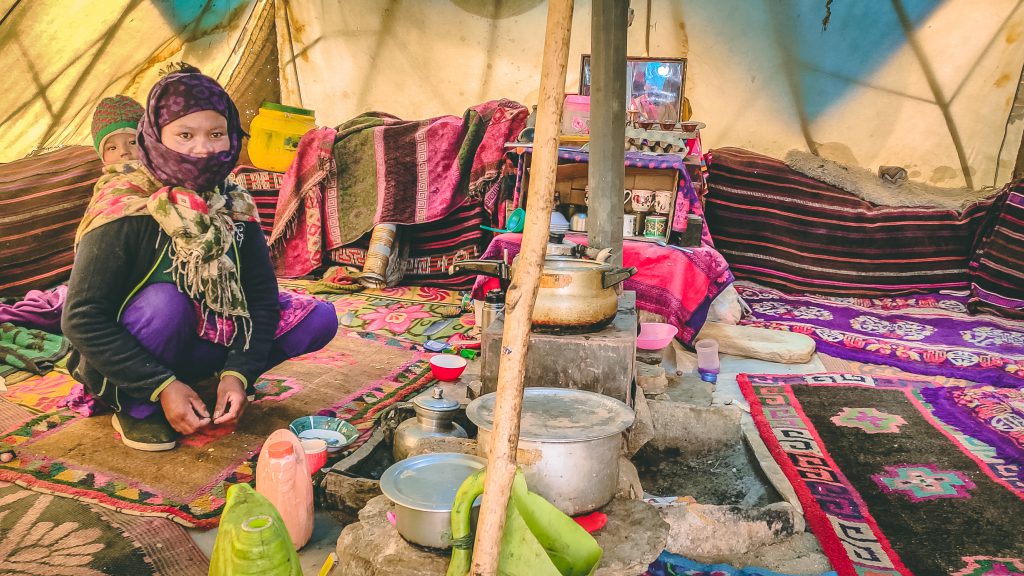 While I was there, at around 8 am, I noticed all the shepherds getting ready for their daily tasks, the first of which was to head towards the mountain with their livestock for grazing. The bleating of all the goats and sheep made me feel like they were calling out to me and welcoming me! These sheep are exclusive to this region and produce wool for the finest pashmina. Most of these herders live with their livestock and are always on the move. They don't expect much from the outside world, so they practice a sustainable way of living.
Reared by the nomads for their high-quality wool, the pure pashmina goats are found in the remotest of regions of Ladakh. Collecting the prized wool from their undercoats takes a long year of hard work. The nomadic people or Changpas later sell it to the cooperatives of Changthang. It is then carted to a de-hairing and processing center in Leh city, before being sold in the market. This raw pashmina is also used to make socks, gloves, hats, tents, sweaters, and so on for their own use during the brutally cold winters of Ladakh. The temperature easily dips to -30°C, making it one of the harshest habitats. Occasionally, the nomadic women also make a few extra woolens that they sell to the travellers and the armed forces in the region.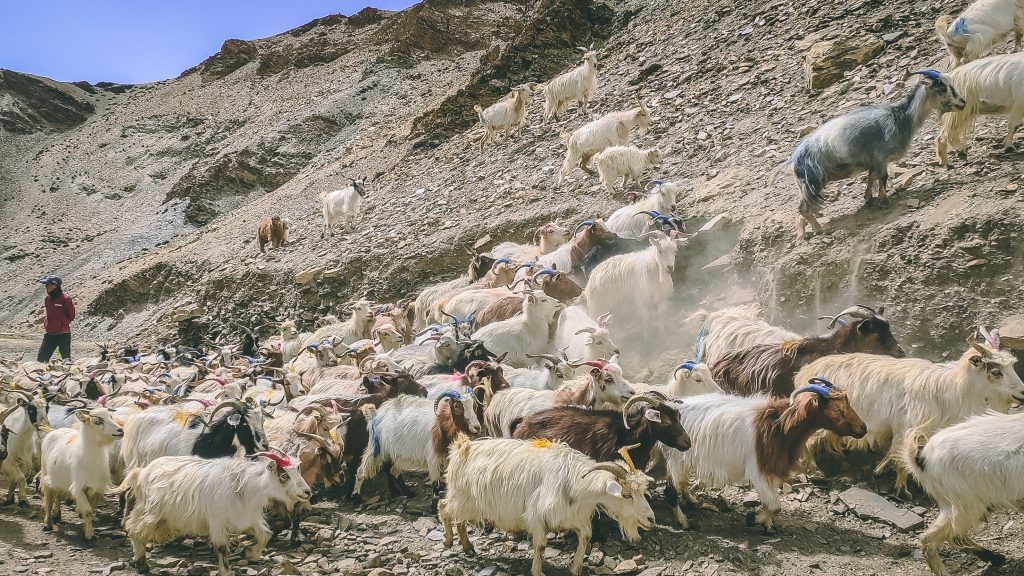 Back in Korzok, there are two hamlets. One is called Gonyok, which means settled below the monastery, where there are 70 households, most of which have restaurants, guest houses, homestays, or farms—a clear indication that these people rely heavily on tourism. Like the rest of the world, this small community has also been impacted by COVID-19. Not many restaurants are open this year compared to last year, when, during the peak season, the village was packed with tourists. For the first time in years, since Korzok opened up for tourism, I could see kids roaming the streets instead of travellers.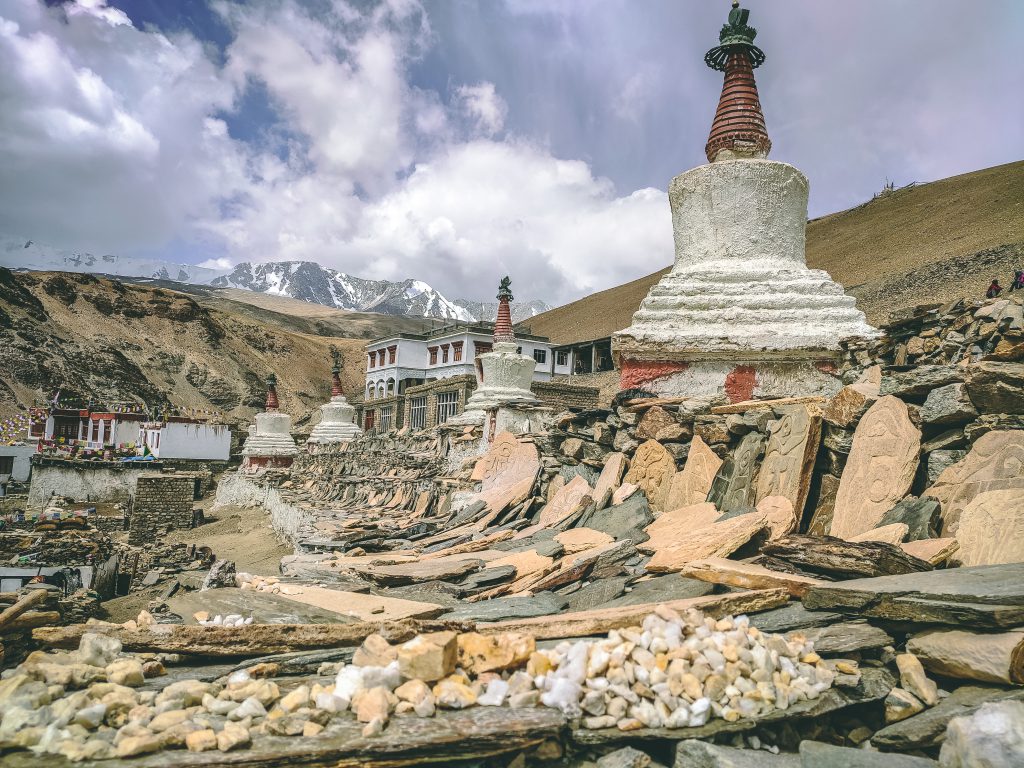 When I entered Korzok, the locals were gathering in the middle of the village for prayer. Also, early in the morning, monks were playing drums. Low, deep chants were wafting up in the air of the monastery, which is almost 300 years old. Once every year, the festival of Korzok Gustoris celebrated here, when all the monks perform a mask dance to mark the occasion. They sport masks of different types, resembling deer, deities, and other sacred, symbolic objects. In my discussions with the monks, I learned that in Tibetan Buddhism, they believe that when we die, we face many kinds of masked spirits, according to our karma. Watching such mask dances help remove this fear from within us.
I saw some ladies here carrying mains (wheels) and malas (rosaries) in their hands while circumambulating the monastery. Following in their footsteps, I also circumambulated the stupa and monastery, where I met with the two ladies featured in the image (below). When I asked for their permission to take a photograph, to capture their smiling faces, they told me, "We are old now; you must click pictures of young girls instead". I was persistent, and in the end, I got my shot.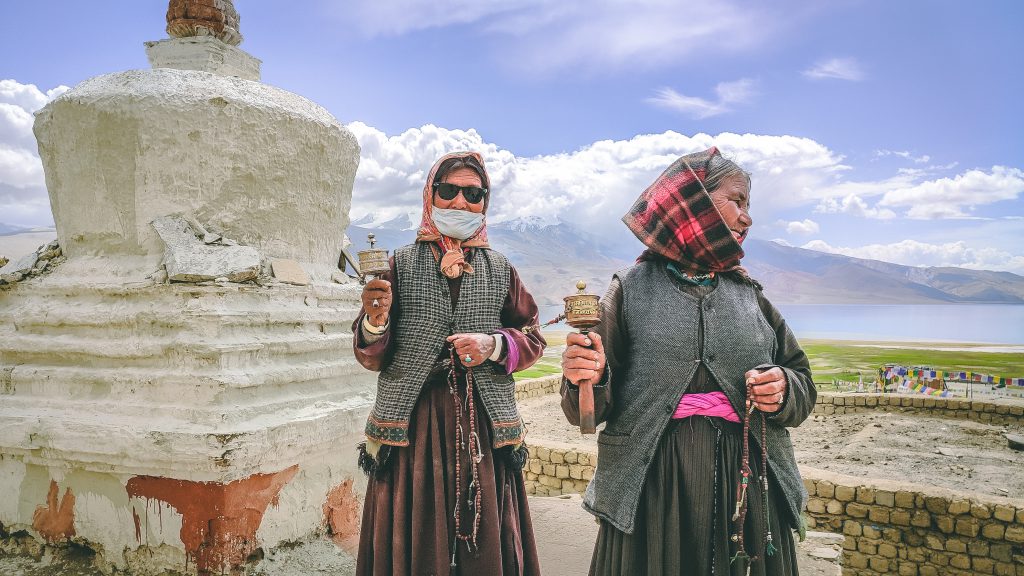 The entire community in Korzok believes in Buddhism. The people are friendly here and open to conversations.  A monk walked up to me and told me about his family. Interestingly, he knew 6-7 families in the village, who also happened to be his distant relatives. My friend Acho Dorjay (Big Brother Dorjay) and I were waiting for some people to gather for a conversation when suddenly, a young boy walked up to us and offered us a cup of tea. I was expecting it to be milk tea, but it was butter tea, redolent with the flavors of the local butter. I selfishly asked them for one more cup, and they obliged happily. I cannot forget the warm hospitality of the community in Korzok and their welcoming hearts. This trip, although a short one, was totally worth the time. However, I will wait for this time to pass, and visit this place in all its glory, once Ladakh opens up to tourism.