Often the discourse of sustainable development revolves around role of different stakeholders and their responsibilities in sustainable growth of tourism destinations. Although operations of each and every tourism practitioner and behavior of travellers hold significant importance, we at Mountain Homestays strongly believe that Tour Operators are the real game changers when it comes building sustainable tourism destinations. We speak out of our experience of developing and operating Homestay & Experiential Tourism in the land of high passes – Ladakh!
In between two COVID waves, in 2020 & currently in 2021, most of the tourism destinations are experiencing surge in traveller's footfall. Hotels, resorts, tourism markets, attractions are full of people. Travellers are in search of places where they can connect to different people. They want to go as far in mountain as possible. Stay as long as they can and explore all possibilities to meet the other communities than their own. It was never such a strong travel trend before pandemic. This barrier breaking behavior is commonly being perceived as a Revenge Travel but we see it holds an immense potential to drive the responsible behavior.
Current Travel Trends – Strong Opportunities for Responsible Tourism
Search of offbeat places – From the beginning of June 2021, people in India started looking for places not just around their hometown but far in Himalayas. This was the effect of increased rate of vaccination. Travellers preferred Ladakh because this is the destination where majority of the population is being vaccinated.
Stay for long duration at one place- The trend began with people looking for one homestay for long stays. Relocating to less crowded, idyllic places with good connection to continue the work from Mountains.
Back to iconic attractions – Slowly by July 2021, major attractions of Ladakh such as Pangong Lake picked up. Families, group of friends, started planning their short holidays and visit iconic attractions.
Openness for new experiences – At the same time, there is a large segment of travellers looking for places away from crowd with immersive experiences. Homestays, local food, exploring local farms, lifestyles, offbeat places – these were the top demands from majority of the travellers.
Safety & hygiene the priority – If travellers find a perfect immersive experience along with assured safety & hygiene, they are quickly booking the services. Previous reviews, luxury elements, comfort of road journeys all came secondary in decision making.
In a nutshell, we are observing travellers are going out of their comfort zone, open for new information & valuing the destinations in its most real form.
We at Mountain Homestays see this current trend as a perfect opportunity to establish sustainability practices in the destination. We made most of these trends to transform revenge travel into responsible travel.
Demand for Offbeat Places – Preparing Remote Communities for Quality Tourism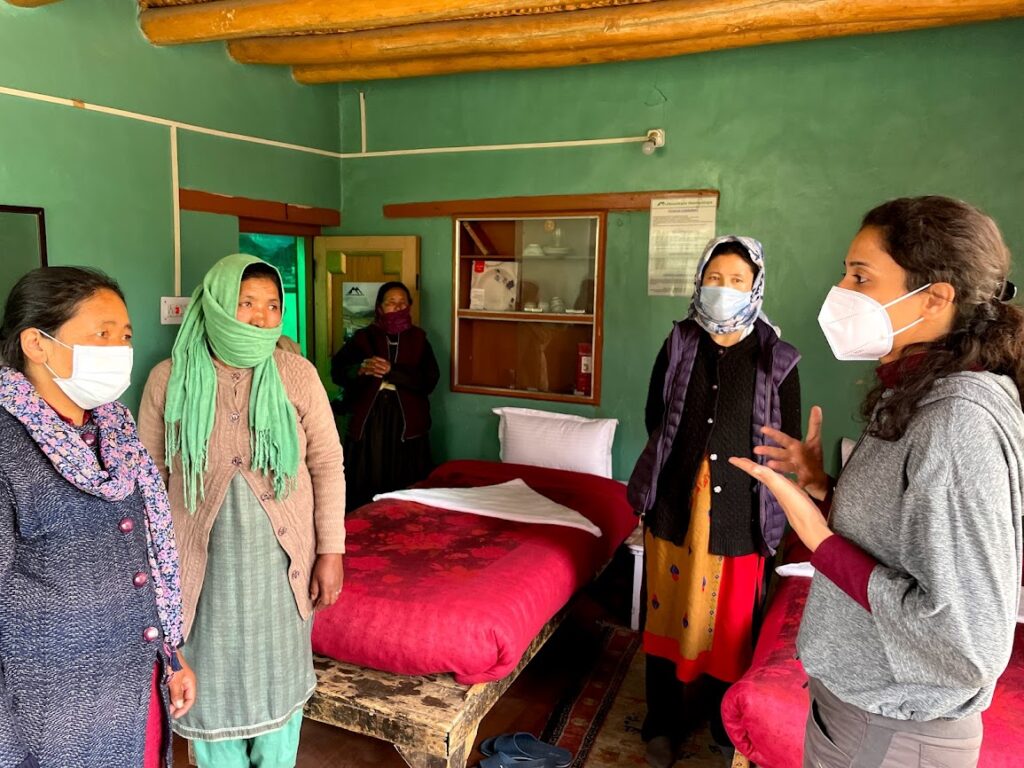 People are in search of safe places with fewer crowds. This creates scope to boost tourism dispersion that has always been a challenging implementation in a place like Ladakh. To follow the trend & start offering offbeat places, it was important to train communities living in hinterlands to manage and operate tourism activities. Hence, this was the very first step we took as a responsible tour operator – Enabling Offbeat Ladakh to Be Tourism Ready. We gathered our homestay hosts living in Siachen Valley and Kungyam Region to conduct 2 days training program for Experiential Travel & Homestay Operations. Together we brainstormed to create valuable experiences around local lifestyle, hidden heritage, natural wonders, & many such things significant to the region. We also set up the standard operating procedures to ensure safety and responsible behaviour of host as well as guests.
Impact – Remote communities of Siachen Valley & Chumathang Region hosted their first guests this season. Preparedness of these villages is helping tourism dispersion in Ladakh.
Demand for long workation trips – Work-Life Balance Experiences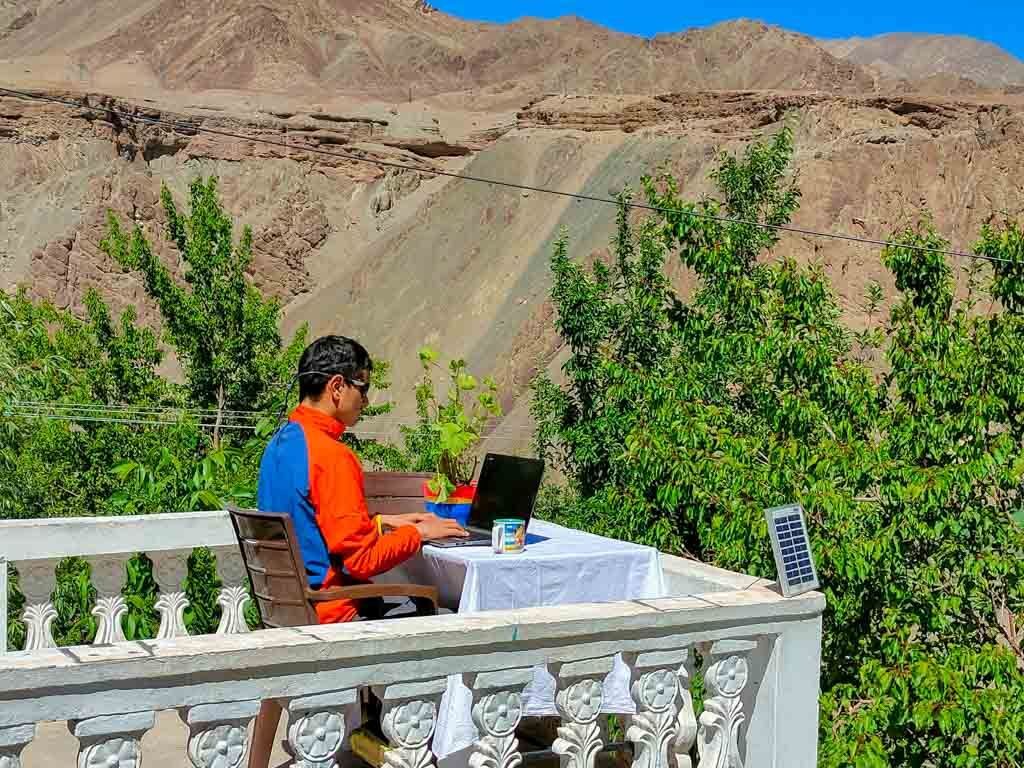 As soon as the travel began, everyone witnessed a demand for places from where travellers can work remotely. Workation – the term and concept spread like a wildfire. The main motivation behind the concept was to step out of homes, living at a serene place, and yet being connected to the world. At the same time, there is a collective conscious building around maintaining Work-Life Balance. We started offering a Work-Life Balance Multiday Experiences where travellers get to stay in multiple villages, away from crowd and travel on weekends to the offbeat places. We enabled the villages near main town that have good network to offer best quality homestays with local organic food. These homestays are Carbon Neutral Homestays that provide uninterrupted electricity sourced from Hydro power plant, hot water from Solar Water Heater, fresh organic vegetable from greenhouse, and are equipped with Western Style Eco Dry Toilets.
Impact – The mass tourists of Leh main town are able to disperse in these villages and help reduce the pressure on local resources.
Demand for iconic places – Undiscovered Within Popular Attractions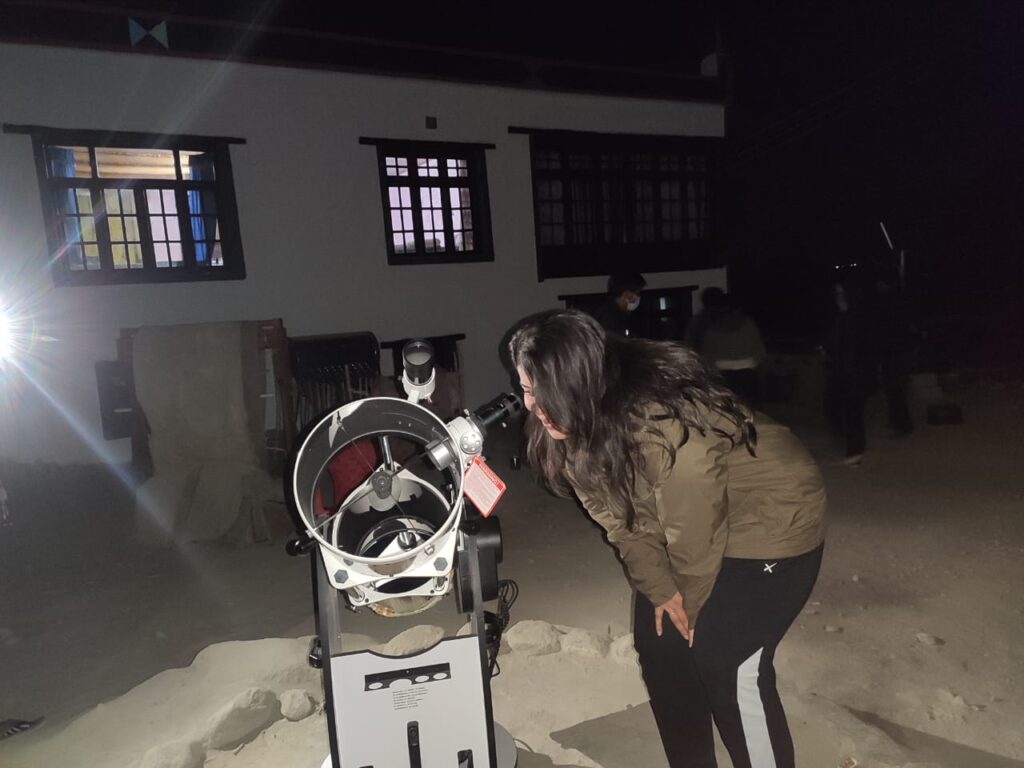 During the peak time of the season in Ladakh, the family and group travellers started travelling. These are the travellers coming with a specific demand of visiting iconic places of Ladakh such as Pangong Lake. Every year, Pangong Lake located at 14000 ft. receives maximum footfall that gets accumulated at certain spots. Sometimes, tourists come beyond the carrying capacity of these places. This increases the threat for the local and fragile ecosystem of the Changthang where Pangong Lake is situated. We at Mountain Homestays redefined the trip to Pangong Lake by adding a nature-based tourism experience – Astrostays. Owned and run by local community living on the banks of Pangong Lake, this attraction is able to disperse tourists from saturated areas to the local villages. Travellers now go extra mile in Maan village located 10 kms away from main tourist area. They stay with locals in Carbon Neutral Homestays and enjoy Astronomy Session in the evening.
Impact – Astrostays created direct source of income for the locals and the astronomy activity motivates local youth to stay in the village.
Demand for safety & hygiene – Scope of Sustainable Behaviour
For all the travel related services such as homestays, taxi, activities – one thread that is common in all the demands is – maintaining safety & hygiene standards. If a homestay is well-equipped with hot water, clean water, and organic food – it catches attention of every traveller. This trend complements the features of Carbon Neutral Homestay that are equipped with Solar Water Heaters, Water Filters and Greehouse to grow organic vegetables. Even though many travellers are not aware of the sustainability narrative, their choice of Carbon Neutral Homestays for safety & hygiene purpose contribute directly to sustainable development of the destination.
Impact – More than 470 number of travellers stayed in Carbon Neutral Homestays from June to August 2021.