Tashiya de Mel, July 2019
Otherworldly landscapes of arid mountains and jagged rock formations enfold the mystical land of high passes. At altitudes above 3,500 meters (11,480 feet ), picture-perfect gompas dramatically crown rocky outcrops next to fluttering prayer flags.
Against a backdrop of sublime mountainscapes and whitewashed stupas there is an unparalleled wilderness and rugged terrain that will leave you spellbound.
This is Ladakh.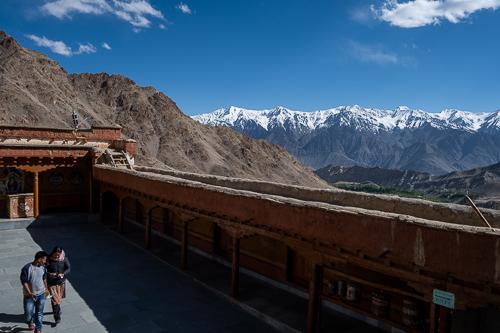 A region that was on my bucket list for as long as I could remember. It was finally in the summer of 2019, that I embarked on my first solo adventure to this cold desert region in North India.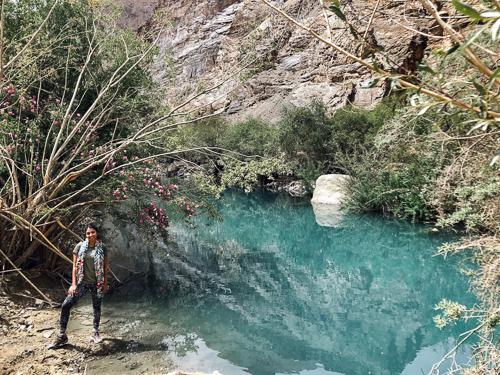 Following in the footsteps of the elusive snow leopard, I spent my days traversing across snow-capped peaks, crossing glacial rivers and jagged maroon-hued mountains etched into surreal rock formations.
Together with a local guide, I trekked through the vast expanses of the high-altitude, Hemis National Park, located just south of Ladakh's capital, Leh.
Walking over 100 kms across fourteen days, I hiked across an astounding diversity of terrain resembling middle earth.
Exploring the hidden gems of Ladakh was only possible with the expertise of Mountain Homestays, part of the Global Himalayan Expedition. Mountain homestays is a community empowerment initiative that focuses on promoting rural destinations by developing homestays in partnership with the locals and reducing their carbon footprint through solar electrification projects.
A Typical Day
Mornings begin with a cup of steaming tea: from salt tea — a brew made from a local herb, to the local delicacy, butter tea — made with.. you guessed it, butter! followed by freshly made chapati. After gearing up for the day ahead, I would bid goodbye to my wonderful host family and embark on a new trail navigated by my expert local guide, Spalzang.
Each day I would trek to remote villages scattered across the most magnificent landscapes. Among the vast peaks I was so tiny and everything had a new perspective.
There would be a mandatory break around noon, most often by the side of a gurgling stream, where I would devour the packed lunch prepared by the previous homestay.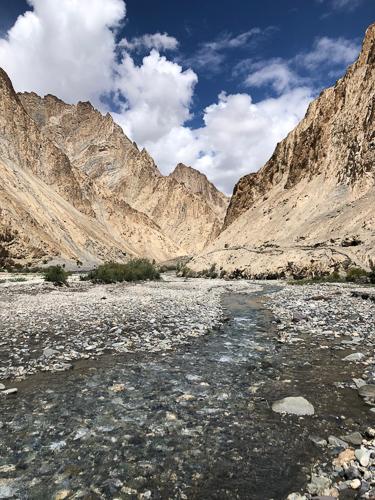 By late afternoon, after several hours of dusty trekking I was welcomed at a different mountain homestay. No where in the world have I ever received such hospitality. Each family welcomed me into their homes as if I were long lost friend with beaming smiles and unlimited cups of tea.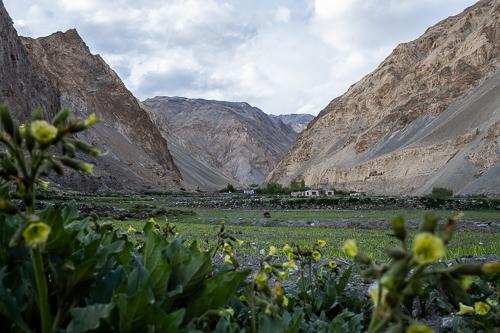 From sunrise to sunset, each day brought with it a new set of adventures, challenges, learning and exploration. Here are some of the highlights from my incredible Ladakhi adventure:
A night at an apricot orchard
I'm still dreaming about the night spent at Tsogsty: a green oasis in the middle of barren cold desert. This cosy homestay set among apricot and apple orchards is nestled in a narrow valley by the Zanskar river. To reach the homestay one must drive along a ramshackled road encompassed by towering peaks and steep cliffs.
I was surprised to learn that apricots grow in these arid environments. In the summer months, when the landscapes comes to life, these trees grow in abundance and apricots are often dried and stored for the winter months where temperatures can drop to -35.
Pro Tip: Remember to try the organic dried apricots before you leave!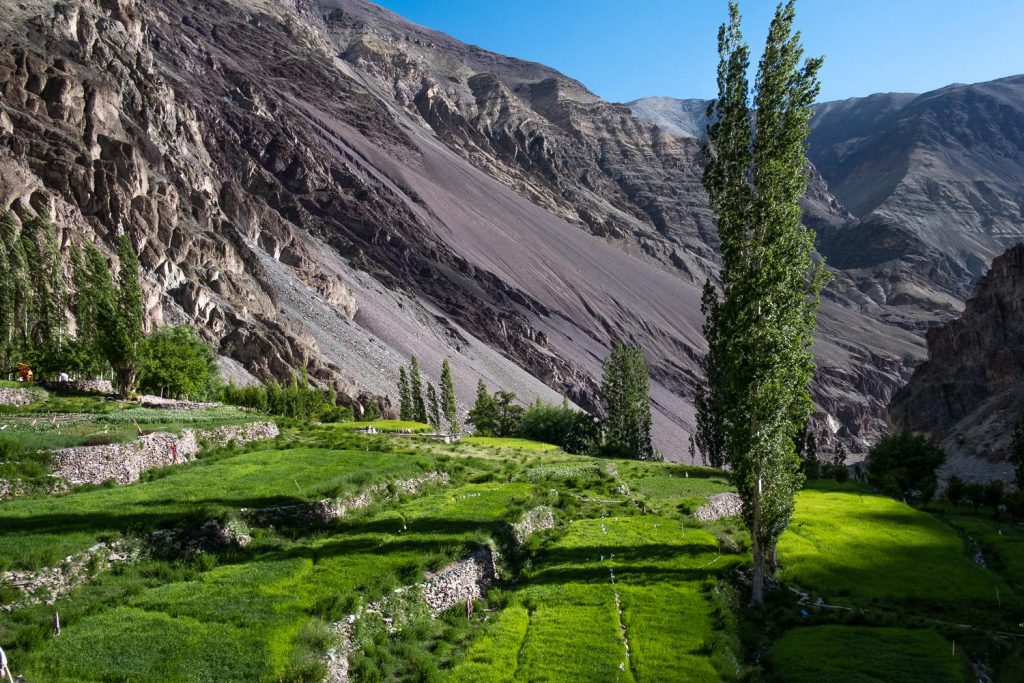 At the village, I spent time with the local copper artisan and learnt about the age-old craft of copper art, which takes exceptional skill to master. The artisan spent most of the day in his workshop designing and creating beautiful copper and brass items such as kitchen utensils, ceremonial flasks and tea pots. I was told that these traditional skills are on the brink of decline with younger populations leaving their ancestral villages in search of better income and the lures of modern convenience promised by urban life.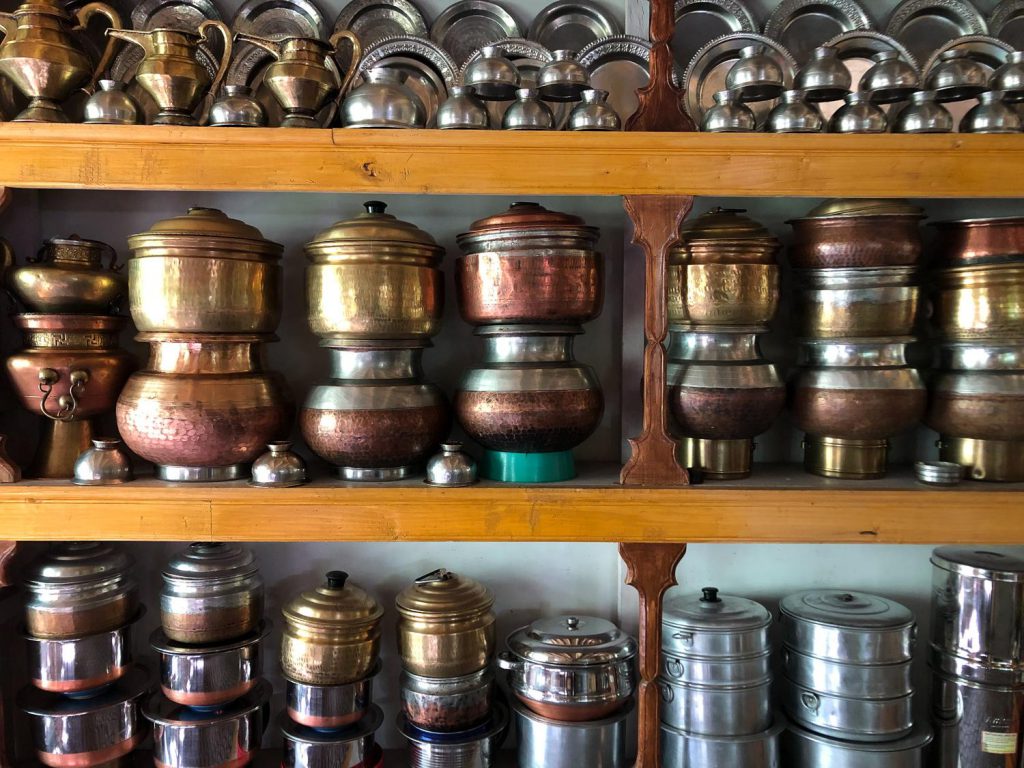 A short walk to upper Tsogsty takes you through the most surreal terrain that feels like you're on Martian landscapes. Lavender, teal, and burgundy rocks of all shapes and sizes are scattered along the trail. As you walk, the path turns into a bed of chiselled rocks dislodged from the jagged peaks above. The murky Zanskar river snakes across the narrow valley carving its way across the deep gorge. The iridescent blue summer sky contrasting with the earthy peaks and lush barley fields is undoubtedly a sight to behold!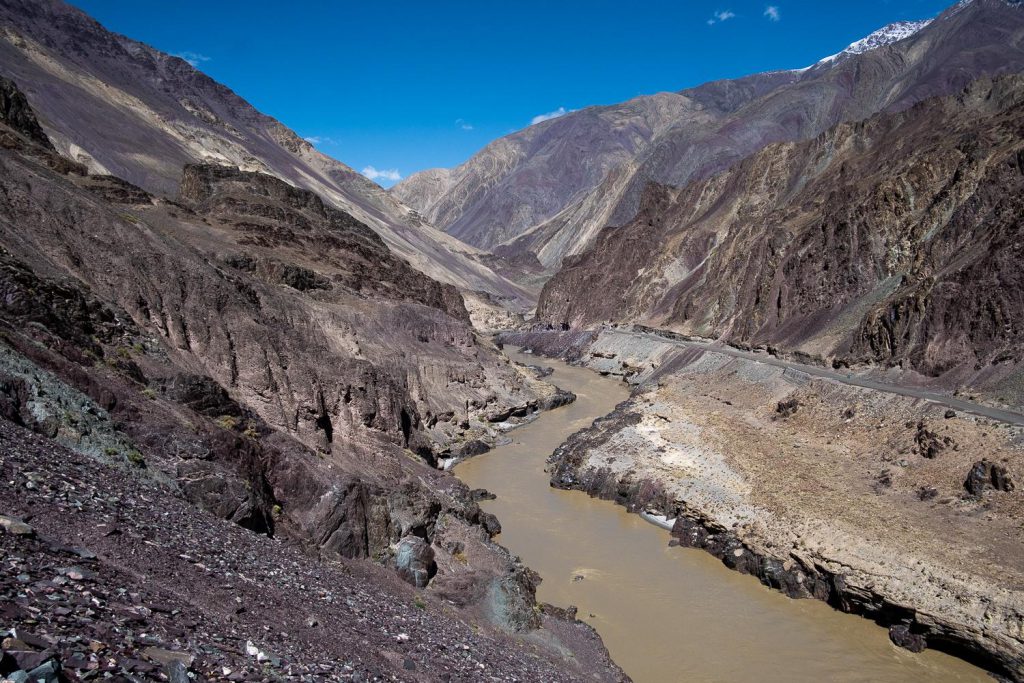 Conquering Ganda La Pass: my first high altitude pass
Today would be, without question, the hardest day of my trek! This was the highest altitude I would be trekking to with little or no prior experience. Ganda La Pass connects Leh to the Markha valley villages at nearly 5,000 metres (16,400 feet). The pass is often covered in snow/ice and graced by extremely strong winds.
The ascent takes you up a gradual zig zagging path where I was needing to take a breather literally every five steps. At these altitudes the air is thinner and has less oxygen, which makes it more difficult to breathe, and involves taking many breaks in between.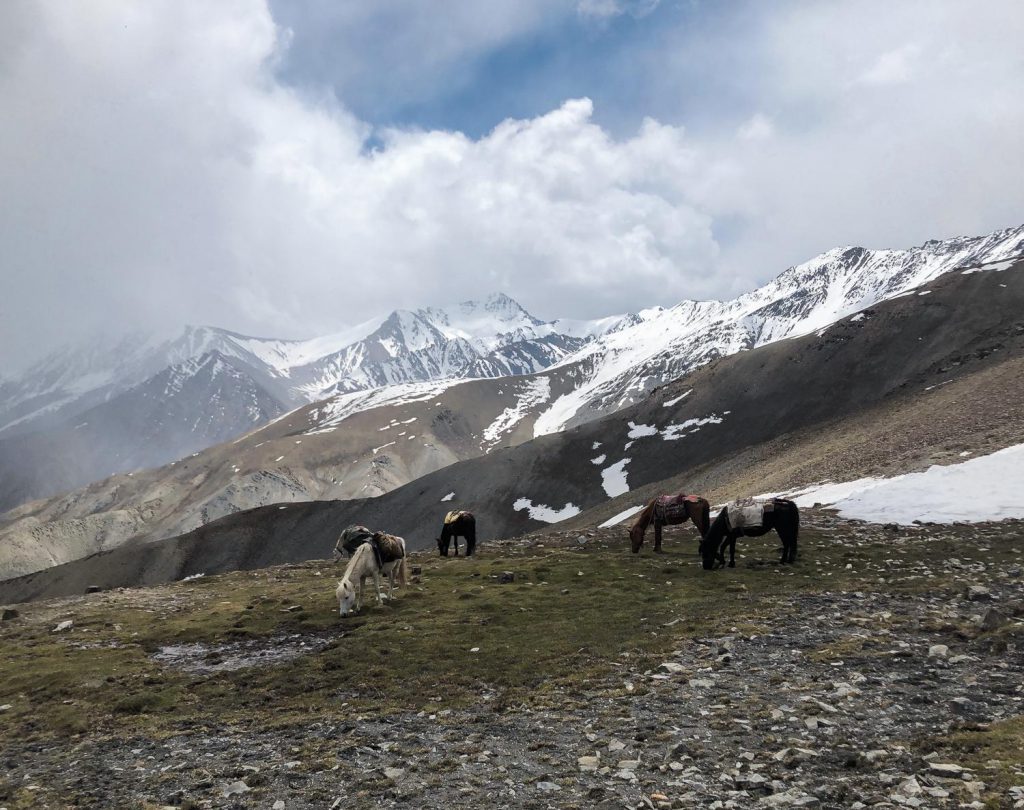 Despite the breathlessness, seeing the incredible vistas and wildlife along the way help take your mind off the high altitude intensity. Grazing horses roam carefree on the higher pastures, while golden eagles soar high above the towering peaks, and playful Himalayan marmots wrestle each other down the rolling hills.
As I was reaching the top, little icy snowflakes carried by strong gusts of wind floated towards me. After what seemed like an eternity, the colorful prayer flags that decorate the pass finally came into view.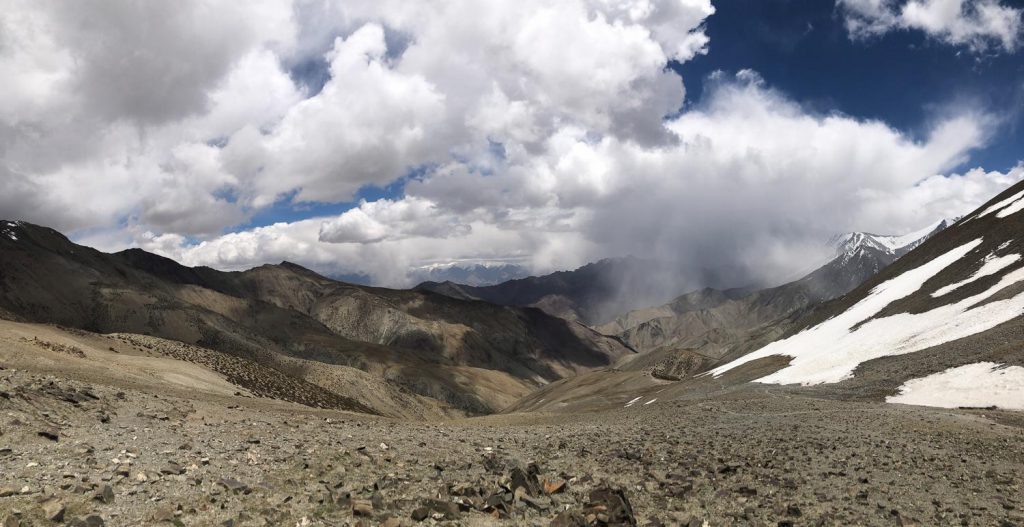 Layers of textured mountains carved over eons by snow, wind and ice stretched into the horizon. After all that hard work, it was a relief to finally sit ourselves down and breathe in the magnificent views.
The air was crisp and clean. Even at an altitude of 5,000 metres with reduced oxygen levels, I could bet my lungs were happier than they would ever be in my urban smog-ridden existence back home.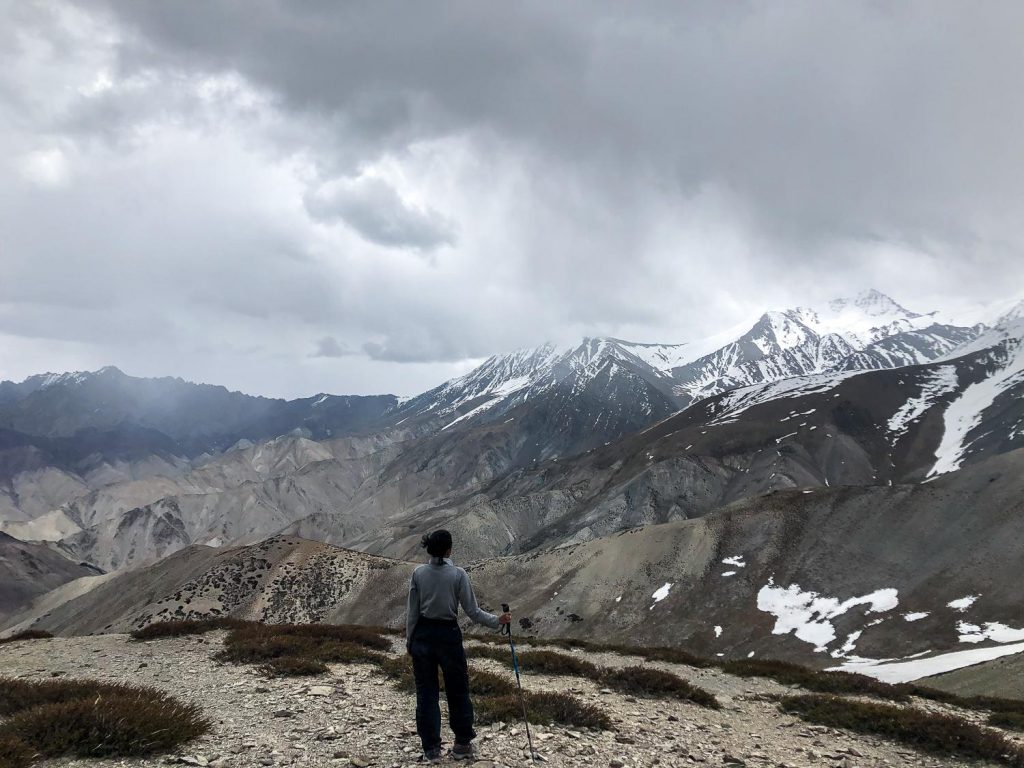 Depending on fitness level and acclimatization, the climb from lower basecamp to the Ganda La pass can take between 3-4 hours. After the pass its a beautiful and (relatively) easy hike to the village of Shingo.
A day at Shingo
At an elevation of 4,200m, Shingo, is one of the most picturesque villages in Hemis National Park. This quaint village is home to just three small homes and a monastery.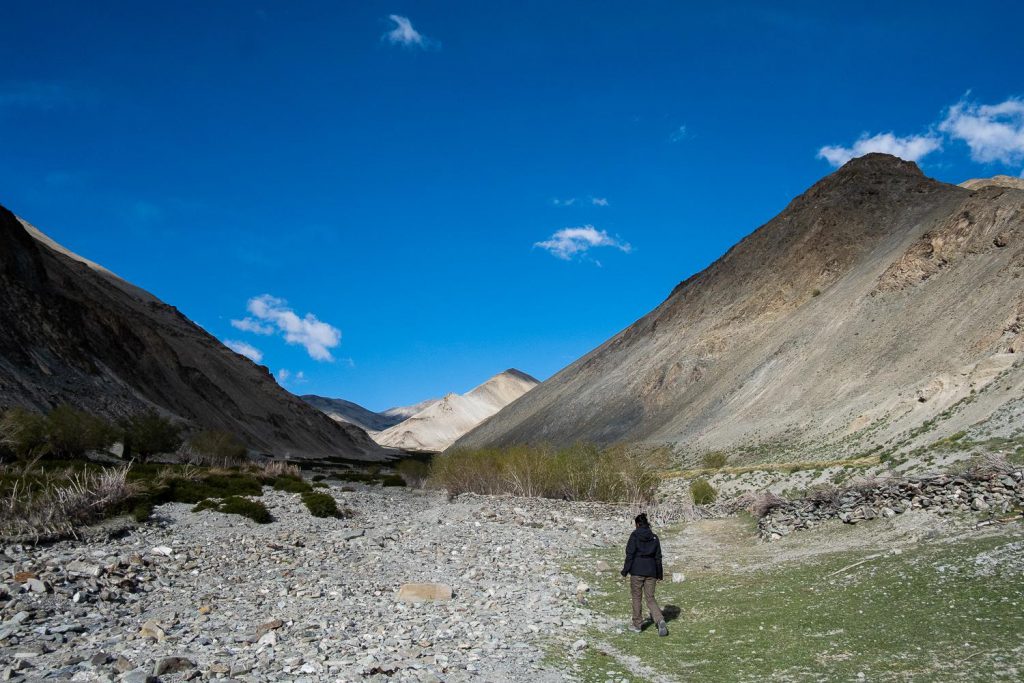 I spent the day strolling through the grassy meadows and observing the women work on their electric green pea and barley fields. The panoramic views of the undulating ridges and snow capped peaks were mesmerising and best enjoyed with a warm cup of chai.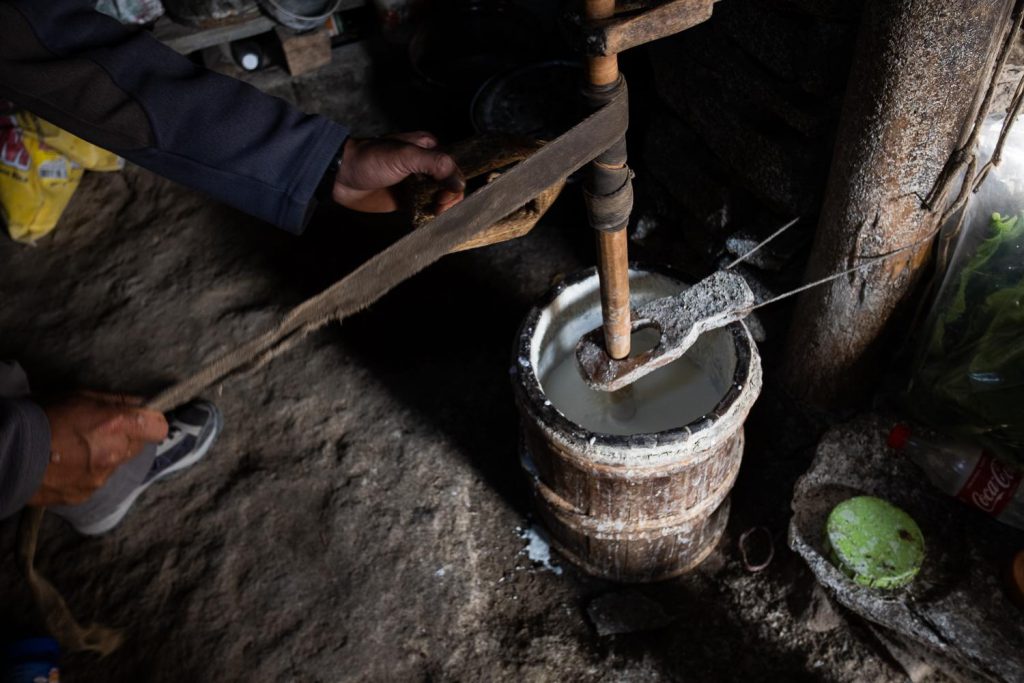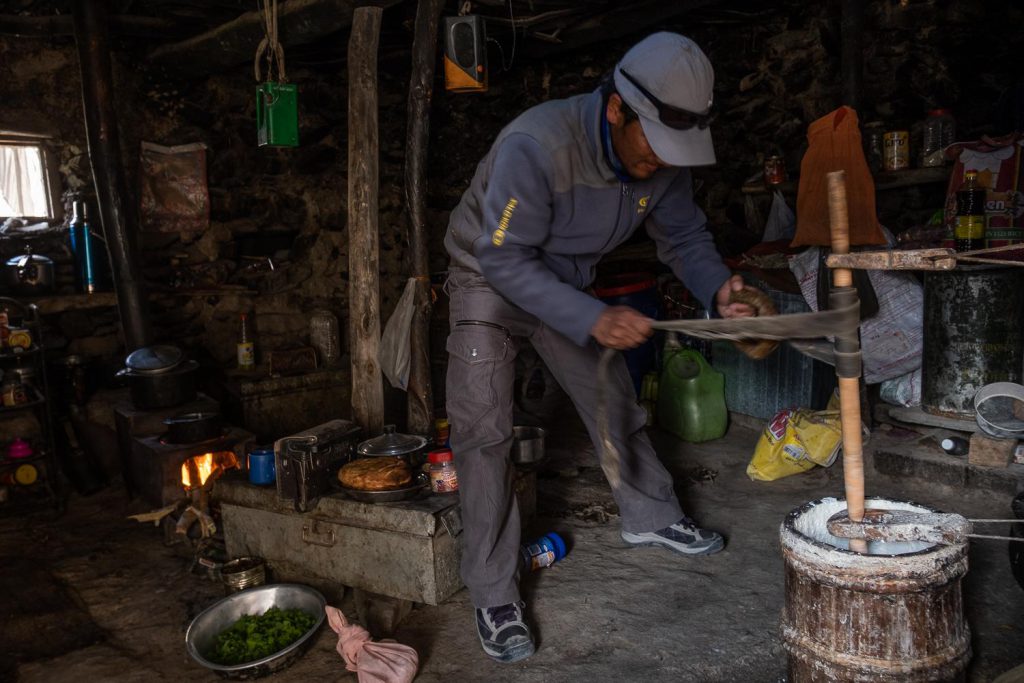 In the afternoon I was invited inside a beautiful 90 year old stone kitchen where I learnt how to churn yogurt into butter. Made with goat milk, yoghurt, is churned inside a wooden barrel until a creamy yellow butter begins to form at the top.
This process involves manually twisting a wooden pole harnessed by a rope inside the barrel for at least one hour.
As you can imagine, it is very tiring. I didn't last longer than five minutes!
As the sun dipped lower into the horizon I spotted colourful silhouettes retreating down the mountains. It was the local herdsman bringing his sheep and goat down to the village after grazing in the high pastures.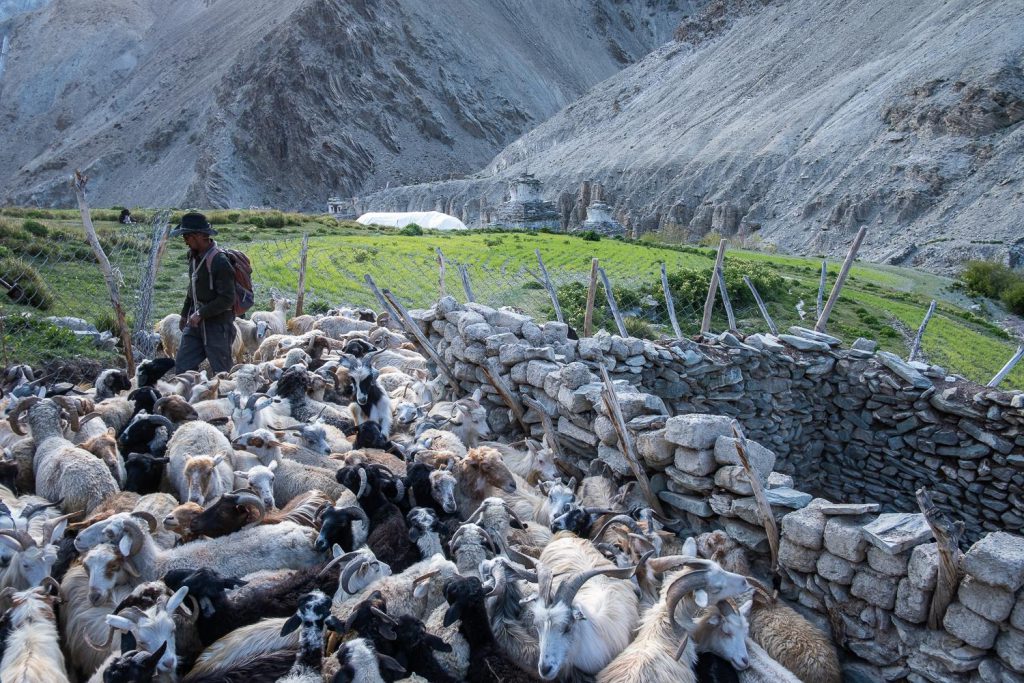 I helped him round up all the livestock and carefully move them into an enclosed pen for the night; safe from the grips of snow leopards and wolves.
Walking on psychedelic landscapes
The path to Sumda-chenmo, a 10th century village in the Zanskar valley is not your average trek. I learnt that my guide, Spalzang, had grown up close to this village, North of Hemis National Park and knew the landscape like the back of his hand.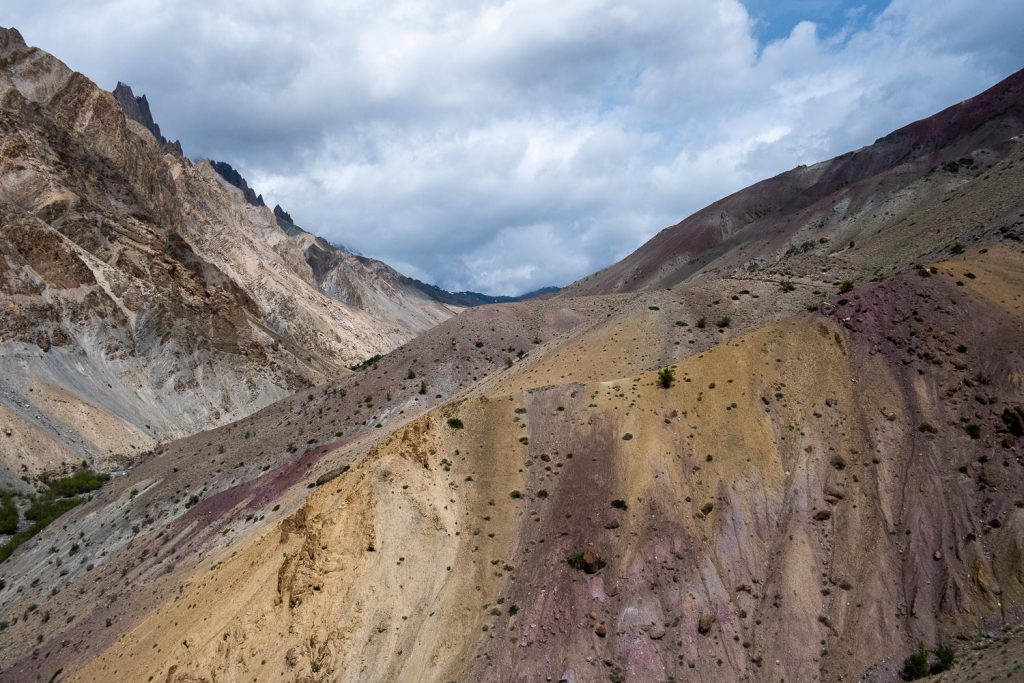 From the very beginning, the trail will leave you breathless.
A precarious path carved into the side of the mountain winds along the Zanksar river with a sharp vertical drop on one side. You learn to walk without looking over the edge or standing too close as the trail cuts through narrow valleys and deep gorges rising and falling with the natural curvature of the landscapes. *
*This is not a place for those of you with vertigo.
For hours I walked alongside the river, which only a few months ago had been frozen and in a matter of weeks would swell with the melted glacial water trickling down from the higher peaks.
I slowly meandered my way up and down the steep mountain faces and threaded through plantations of Willow; the wood which is used by the locals as a building material.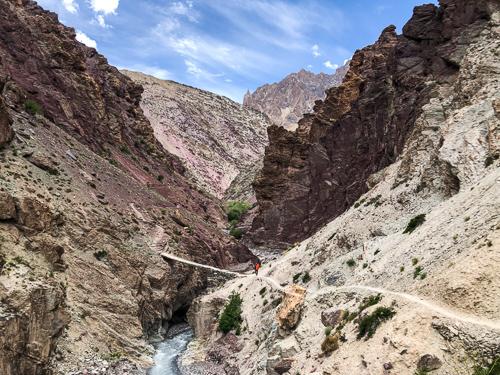 The trails are decorated with elaborate "chortens" (shrines) and "Mani"(prayer stone) walls that further exemplify the region's immersion in Buddhist culture.
Deeper inside the valley, we crossed through a series of peaks rising abruptly like cathedrals. The colours of these symmetrical spires glistened beautifully in metallic shades under the tenacious sun.
These mighty peaks rich in mineral deposits displayed shimmering ridges that were snow capped on the upper reaches. Landscapes festooned with brushstroke paints of colours in varying hues and saturations. Magenta, ivory, ochre, swampy green and pastel pinks.
Colours and textures so vivid that you forget the vast distances traversed and the tiredness slowly creeping into your legs.
Living with Locals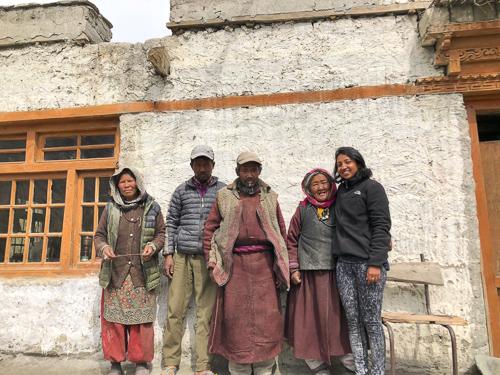 The hospitality, care and attention shown by my hosts was incredible – I have rarely ever felt so well looked after. Considering all of this came in the most remarkable and remote locations, made it even more humbling!
Most homes are traditional mud-brick homesteads that tell a story of simplicity unmarred by the lures of present day's advancement. Rooms are dormitory style with clean beds and plenty of blankets. A sea of chromatic rugs and carpets adorn the floors adding to the ambience and comfort. The homestays have local dry-toilets, common to all.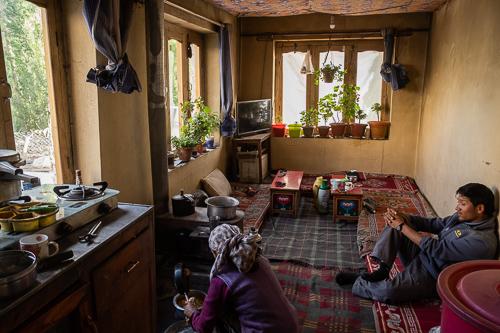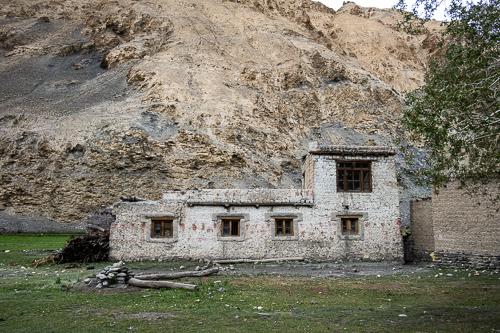 Ladakhi kitchen's are the ultimate refuge.
Not only for the wonderful aromas emanating from the cooking pots, but also for the warmth provided by the traditional 'thaap' (wood-fired stove). Most evenings we would get comfortable in the classic bedoiun-style seating to help prepare dinner or simply stay warm and discuss the route planned for the following day.
A seat in the kitchen provides ultimate insider access on the local delicacies and culinary traditions.
Some of the home-cooked meals I helped prepare was 'Shu-tagi', a local pasta, 'Thupka', Tibetan noodle soup, and 'Mo-Mo's', steamed dumplings, which were simple and delicious; made with a wheat base and cooked with fresh vegetables and herbs from the garden. We were served copious amounts of 'Tsampa' (roasted barley flour) with our tea and 'Chhang' (barley beer).
With little access to the outside world and no mobile connectivity, it is a quiet life; this is what it means to live 'off the grid'.
Despite the stark weather, remoteness, and harsh living conditions, Ladakhi people are some of the happiest and most generous people you will meet. My homestay experience was incredibly humbling and it is only after experiences of this magnitude that you are reminded to be grateful for all the things we often take for granted in life.
Ladakhi living is the epitome of raw natural beauty, rich cultural heritage and simple living.
Responsible Travel
When I first began researching my trip, I was overwhelmed by the number of tour groups offering personalised travel packages in Ladakh. Once I came across Mountain Homestays and learned about the work they do, I was convinced that I could travel responsibly with their expertise.
I am extremely grateful to Gagan, and his team for putting together the perfect itinerary. Everything from logistics, to accommodation, meals, and the guides were all perfectly curated . As a solo female traveler, I felt completely safe during my travels. My guide, Spalzang, was extremely knowledgeable about the local environment, culture, and wildlife and turned out to be one of the best travel companions.
Why you should choose homestays?
Homestay based tourism has multifold benefits to the local communities. It allows a consistent flow of travelers to the rural economies, thus creating multiple opportunities of livelihood for the locals. By creating livelihood opportunities at these remote villages, they help curb the major issues of urban migration and cultural loss while enabling their aspirations for a promising future.
Thanks to Mountain Homestays, not only did I get to experience the true essence of the mountain regions, I was also able to make a positive contribution towards women's empowerment, local livelihoods, and the sustainability of the Ladakhi environment and community.
I couldn't recommend them enough!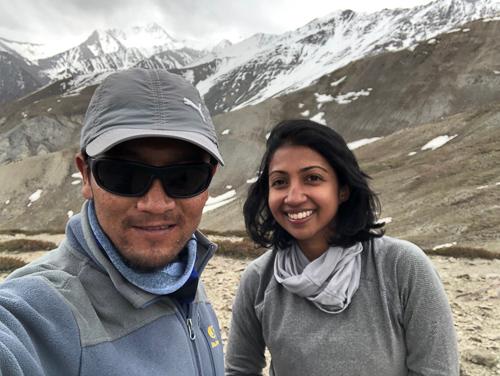 Ecological Sensitivity
Ladakh is an extremely sensitive region that is threatened by a rapidly increasing number of visitors each year. It's not difficult to understand the lure of these rugged mountains, but it's important to remember that tourism creates many stresses on the local environment and culture.
The cold desert regions receives very little rainfall. In fact, it relies on glacial melt for most of its water. Therefore it's imperative that you minimise your use of water and respect local customs and traditions while traveling.
Here are some ways you can do this:
Opt to stay with a local family in a homestay and contribute directly to the local economy
Pick dry composting toilets over western toilets
Have fewer showers
Carry your own reusable water bottle or LifeStraw (most homestays offer clean filter water )
Avoid single-use plastics and carry back non-organic waste back with you (Ladakh does not have plastic recycling facilities)
Reduce your carbon footprint by taking public transport or a shared cab (instead of private transport or aircrafts) on the Manali – Leh route