Ever heard about people living in hills of India who do not belong to any religion? OR did you know there is a landscape in India that looks exactly like the Microsoft wallpaper? OR by any chance, you heard about a trekking trail where you are surrounded by butterflies while walking? Well, you can find all of this and more in one region within the state of Meghalaya. We are talking here about the Garo Hills. These eastern hills of Meghalaya usually get skipped by visitors when they come to see the double root bridges, the highest rainfall town, the cleanest village of Asia, and all those blue water lakes. If one really wants to compare these hills with other beautiful and known places of Meghalaya, it can easily be said that this region offers the rarest of experiences that are only specific to these hills. What is so wonderful about this region? Why should you really take that turn towards Garo Hills after visiting the mesmerizing Khasi Hills? Well, the reasons are strong enough! Let's see what these mystical hills have to offer…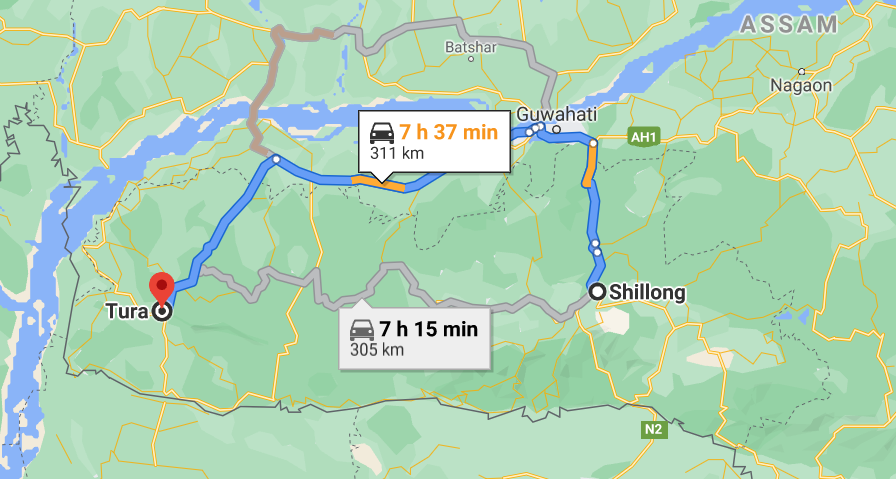 1. From forests to market – Najing Vegetable Market
Don't be surprised to see the local market as an attraction in the Garo Hills. Najing Vegetable Market is one of its kind situated in the main town of Tura. As soon as you step in this roadside located local market, you will notice majority of Garo women are running it. These women collect a variety of fruits, leaves from the forests, carry it on their back in beautiful bamboo baskets and sell it all on their stalls. You'll also find a tangy fruit Chambal – that is local to Garo Hills. On every stall you can spot multiple varieties of vegetables – Bamboo, Dried Apolka, the main leafy vegetable of Garo Food – Me'Ching Leaves and the list is never-ending. These are all uncommon vegetables that you will hardly see in other parts of India. Some of these are used as the main vegetable whereas some are to add flavor. Quite a few of them are just to chew raw for multiple health benefits. The uniqueness of the market is the main ingredients are always nicely packed in big leaves or in beautifully handmade bamboo baskets. Zero use of unnecessary single-use plastic is the only policy here!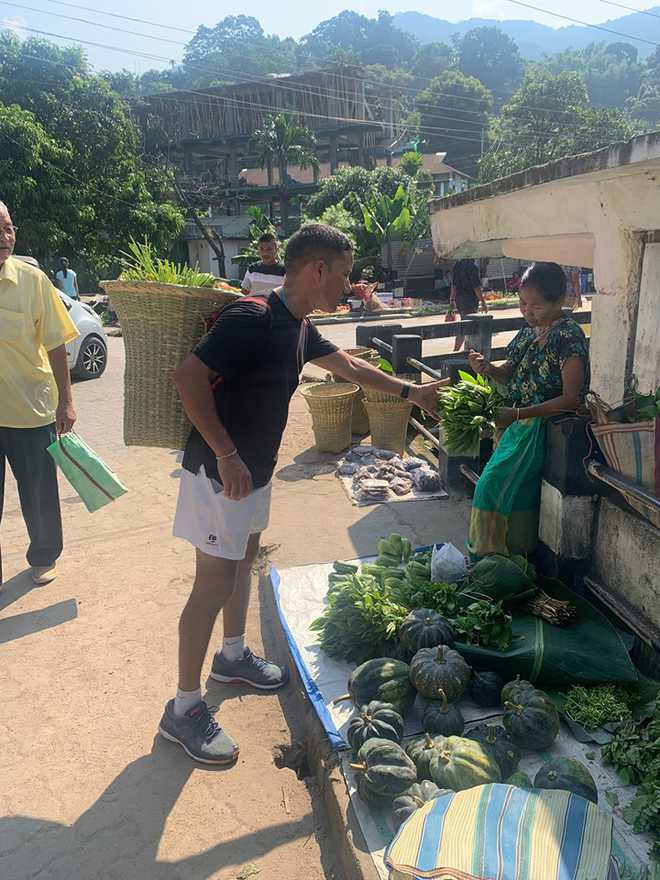 2. No religion community – Sadolpara village
Always expect a unique welcome in houses of Sadolpara village that is a couple of hours drive away in the north from the Tura town! The population of 400 of Songsarek community of Sadolpara Village will fetch out a big earthen pot of local rice beer and feed it to you with the help of a wooden or bamboo-made, hand-driven stirrer. Isn't this absolutely unusual? But the most unusual fact about these people is they don't belong to any religion. Nature is their only God and they are believers in spirit. They live in typical Garo Bamboo Huts, start their day at the dawn, spend the day in farms growing rice, and end the day once it's dark. When a person dies in the village, his/her family lovingly builds a wooden statue in the person's memory, drape the statue with the same cloth as his/hers and keep his belonging around it. These statues are often visited and offered beer and food. Your quests for a place where there are no boundaries of the religion probably end in this village!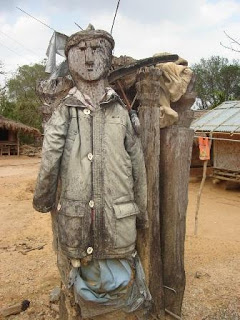 3. Village turned into a wildlife reserve – Selbalgre Village
20 km from Tura is a place where villagers declared the whole village as a wildlife reserve. People of Selbalgre have kept aside some of their lands for wildlife conservation. The villagers love their wildlife, especially Hoolock Gibbons locally known as Huro. In 2007, the local community of Selbagre was approached for the formation of the Village Reserve Forest by Garo Hills Autonomous District Council (GHADC), Meghalaya Forest Department, and the Wildlife Trust of India (WTI). The purpose of this reserve forest was to form a continuous stretch of forests for Gibbons and other animals. The people of the village voluntarily gave their lands so that these species can be conserved. These gibbons are easily spotted around the village. They comfortably come down from the trees in early mornings, spend some time and go back to the trees. Locals love to take their visitors around to say hi to their favorite animal. This forest is now also home to the rescued Gibbons from around the region.
4. Huts built for bird nests – Sasatgre Village
40 km away from Tura is a village where people believe, if they harm these little birds, the village will have to face the wrath of the Almighty. Swallow bird species that are native to these forests build their nests only in the huts made by locals for their own residence. If the huts are missing, the birds don't find a place to lay the eggs. The upcoming concrete houses are taking away their shelters, causing a threat to the existence of these birds. Now the people of Sasatgre re-building their traditional huts and ensure the birds find their favorite spots to build their nests. The locals build traditional huts made up of Bamboo and cane. They have started welcoming tourists to experience traditional Garo life. Sasatgre has been blessed by nature and the village is surrounded by healthy, dark green orange bushes. The villagers welcome you in their huts by offering these strong-flavored oranges that are packed with Vitamin C.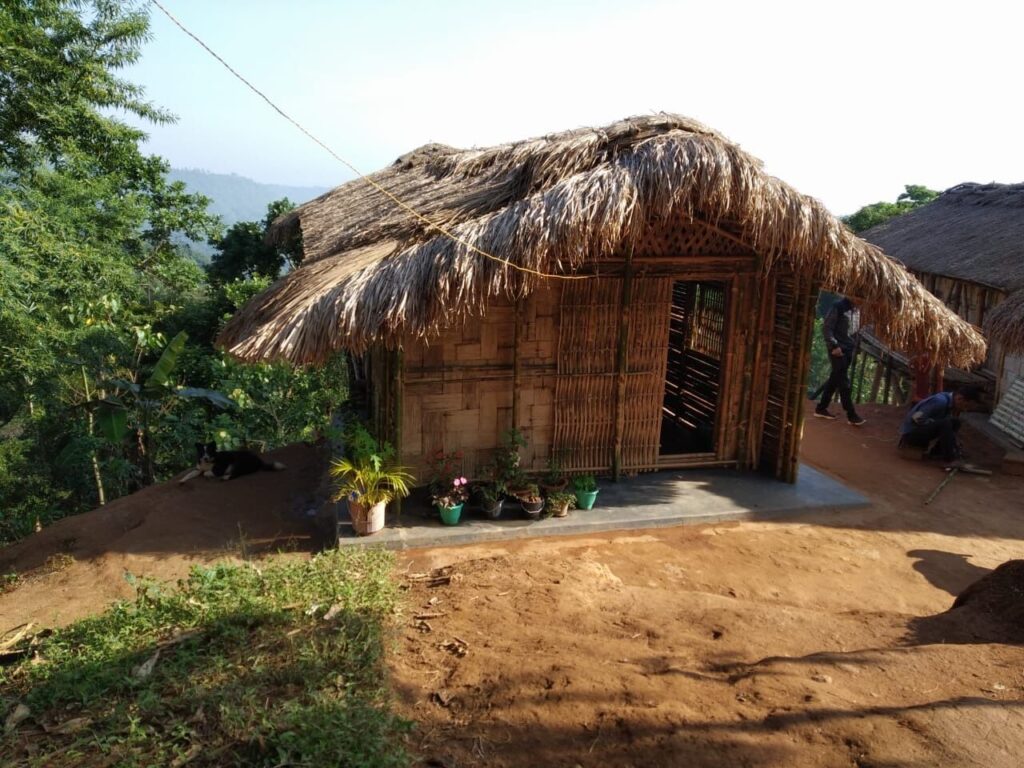 5. Celebration of first harvest – Wangala Festival
Every season and offering of nature is celebrated by the Garo people! And every celebration is a community level event where villages come together, sing, dance, and enjoy the feasts. For the community that always bows down in from of nature, the first crop of the season is nothing less than a newborn baby in the family. When the people get their first harvest in the month of October, people from nearby villages gather and celebrate Wangala Festival. They put on their traditional dresses, wear the feathered headgear, and dance to the music played on 100 drums. The most authentic form of this festival is obviously seen in the Songsarek village where people have made nature as their religion. The other villages such as Asanang where the festival is celebrated on a bigger scale and even the groups compete amongst each other. All three days, groups perform various dance forms. The unique one is traditional rapping known as Katta Doka.