Anubhuti Varshney, Sept 2016
Jullay people! someone told me last year that no one can go to Ladakh only once and never told me why. I now know why and cannot explain to anyone. There is something inexplicably magnetic about the place.
When I landed in Leh, the first feeling was, ohh … these mountains are arrogant and angry. Kashmiri mountains were of same elevation … and they let the trees grow on them. These guys don't even allow grass to grow.
Very quickly the initial feeling changed. The bare mountains were coloured- rust red – copper green – shades of purple and grey and brown. It was like, you are hypnotized, and somewhere beyond the peak you were staring at, there is a mystical thing challenging you to cross the peak and find it. The river, the villages and the gompas and chortans(monasteries) in the villages kept adding to the enigma.
I couldn't wait to start the trek!
This was almost an unplanned visit, thanks to Mountain Homestays. I booked my tickets just 10 days before the trip. Almost crossed my bosses. Oh yes, I am the next door software engineer with 12 hour workdays. Obsessed with my cellphone and laptop.
This trip was my chance to detox and restore myself from the stress and stretch of digital world. As it unfolds, these 8 days turned out to be this and more…
Day 1 – 27 Aug 2016, Acclimatization day
I was told that "Paying respect to the mountains" is important to get your body used to 11500 ft. So, after check-in to the guest house and a cup of tea and breakfast, I slept. I just crashed on my bed, woke up for lunch and then slept again. Had evening tea, early dinner and then slept again. I am not sure whether it was because of low oxygen, or cold weather or because it was so peaceful, but I hadn't slept this well in a long time.
Day 2 – 28 Aug 2017, Sight-Seeing in Leh
We started the day with morning chantings at Thiksay gompa and "butter tea". We also visited Leh palace, Shanti Stupa, Spituk monastery, War museum. But didn't go for Rancho school from 3 idiots as it was a little too touristy !!
Another high in the day was the war museum. On reading the last letter of a 21-year-old martyr, I had goosebumps.

Ladakhi Buddhism – The monasteries have peaceful maitreyee buddha as well as scary masks and demonic paintings. Seemingly the flavor of Buddhism here is impacted by the religion before 1-2 AD after which Buddhism spread. There was a mural marked goddess of knowledge, even that gazing with a wrathful expression. Need to read more about this.
Day 3 – Zingchen to Yurutse in Hemis national park

We started walking in Hemis national park. While walking, often I had soundtracks playing in my head  … that's how chilled out it was. There was so much wildlife that before we could get tired, a new creature showed up and we stopped to catch it on the lens. There was Pika the mouse, blue sheep, marmots, Himalayan rabbits and colorful birds. So we were not at all tired when we reached our first pitstop … ek ghar waala gaon … Yurutse !!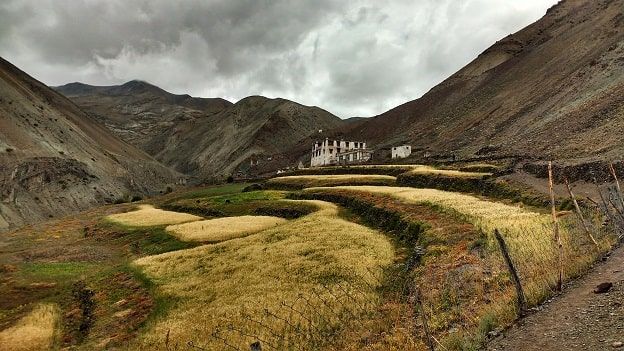 At Yurutse, disconnected from the world, sitting amidst the mountains and sipping hot tea was meditative. Ringzin the owner, showed me his copy of Chasing the Phantom, where Eduard Fischer, an Austrian, chronicles his encounters with the Snow leopard in Hemis, Ringzin proudly showed his mention in the book. As I read, I promised myself to come back here to get a glimpse of the phantom sometime soon. There were also radio, more tea and Parle-G. And great company, we were a diverse set – a French philosopher, a Japanese student, two Fiji born Americans of Indian origin, and three of us – a marketer and two engineers. And good food. In the middle of nowhere, hot soup, fresh butter-dal-roti-sabji–matar paneer. Felt like this was the promised land !!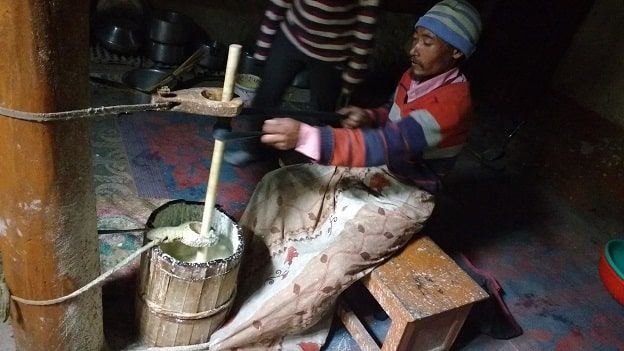 Day 4 – Yurutse to Shingo via Ganda La (5030 m)
Again after 9-10 hours of deep sleep we got ready to find Ringzin warmly served warm breakfast, more butter tea and packed lunch. When we started, it was raining and there was mist all around. This was supposed to be a long day 8 km up to Ganda La and 8 km down to Shingo. You know La-means-pass and dakh-means-land, so Ladakh literally is land of passes. It was a steep climb and after walking for 3-4 hrs when we asked the trek lead how much more, he said only 400 m … height wise. I was slightly panting, when the Ganda-la pass and peak was visible, once we saw the peak a basic instinct, made us just reach there soon … sooner. The view at the top made all the hardwork worth it.

A few more hours of walk and we reached Shingo, the solar-powered village!! A hot water shower and warmth of the Sun swelled the moods. By now, we were all far from our city lives. Clear air. Simple warm people. Lack of complications. It's not that there are no problems, Winter in fact is coming  … Basic food and water is a problem. But they have solar electricity now, and that's a cause of celebration.

Days 5 – Shingo to Tsogsty via Skiu, Kaya and Chilling
This was the final day of trek on a bare desert trails under hot sun and needed endurance. 6 hours of ardous trek and we reached the resting point of Zanskar crossing.
Here, after waiting 2 hrs for someone to pull the gondola from other end, we decided to test laws of physics by manning the pulley gondola ourselves. The enterprising effort involved two of us hanging midway for atleast 5 mins, second attempt was successful.
Finally we crossed Zanskar and after walking another few kilometres to Chilling we got our car to Tsogsty. The road to Tsogsty was full of narrow patches and hairpins, what to say the driver decided to ensure that the spirit of adventure lives on.
After the long trek and "joy" ride, when we reach Tsogsty and were warmly welcomed by our homestay, it was like we reached home. The feeling was sticky and after the next 2 days which we spent in Tsogsti, it is home.
Day 6 & 7 – Home away from home Tsogsty
Two days in Tsoksti and we slipped into the addictive laidback attitude our hosts had. There were apple trees all around. Mornings were strolling around the orchards and eating these juicy apples and trying to discover gravitation under the apple trees by just sitting there. Walnuts were unripe and apricots had been harvested and were in stages of processing. 🙂
The amount of hardwork that a ladakhi farm need is immense. I take inspiration from them. The apricots once harvested are de-seeded and kept to dry. The shells have mini-almonds inside them. The lady of the house spent hours breaking the shells to get unscathed almonds out. A skill worth learning !! Even if you scratch the almond, you get to eat it. Lunch was Shu-tagi, a famous Ladakhi dish made from farm fresh veggies. And at dinner we tasted a nice glass of homemade Chang.
The most important finding of the trip was Tsetan Wangail. This man was amazingly talented. He is a skilled coppersmith. Manages his farm. He makes wooden farming tools. His homemade apricot jam was lip smacking. I also got home a set of bow and arrows made by him, watch me out in the next Olympics. Not sure, if one of us can do something to improve his workshop. It's difficult to imagine, how he would be working there in sub-zero temperatures.
On our last day as we had to start for Leh, so we all woke up early for our last walk in the village. Zanskar river flows behind the lush forest of apple trees and I sat there for some time listening to the birds calls and feeling the peace of this place while eating apples of course.
The trip was not over yet as we all tried our hands on Archery. We turned into kids trying this ancient sport competing with each other. It was an experience in itself. Yes, I got a bow and 2 arrows which I will cherish for life.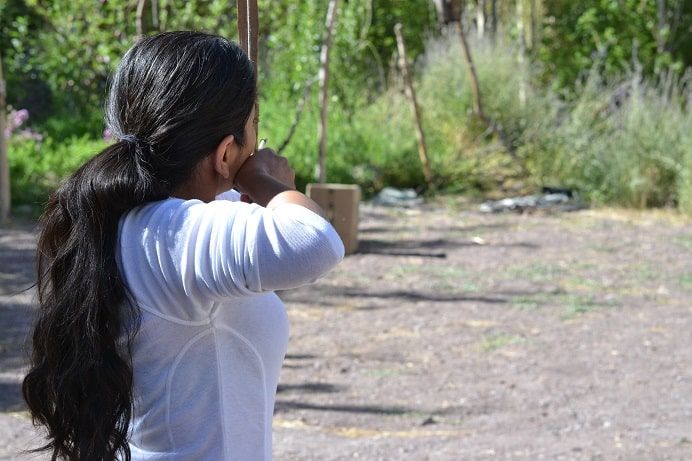 Staying in homestays is amazing and staying in mountain homestays at Ladakh is awesome. Thank you Spalsang and Noorbu for becoming friends from guides. Thank you Gaganpreet for organizing this!! Cheers !!


Day 7 and Day 8 – Reaching Leh and finally doing touristy stuff.
On our way back, we were supposed to raft, but decided to not raft. We were so much at peace that adrenaline was better skipped. But we did have lunch at pattar sahab Gurudwara and did not stop at magnetic hill.
Last day, we just took a jeep to Khardungla and on the way back picked up souvenirs. Thank you Ladakh for the hospitality. Mountains willing, I will be back next year.